The CHS Robotics Team had another competition this weekend. The team of Henry White, Saratoga Rich, Parker Estes, and Noah Caldwell took 2nd place! They did a great job and had a great time. Next meet is in January—who knows how they will do then! Mrs. Fuehne, the sponsor said "I am so excited and proud of them!"
Last Thursday, all sophomores toured the CTC to learn about all the programs they had to offer. This was an effort to help students made educated decisions about the courses they may want to add to their schedule for next year.
Students and staff worked side-by-side at Feed My Starving Children on Friday.
The Cape Central JROTC Cadets, along with the Civil Air Patrol, led the Parade of Lights on Sunday evening.
Mrs. Schnurbush's class baked and sold cookies to staff before the Thanksgiving break.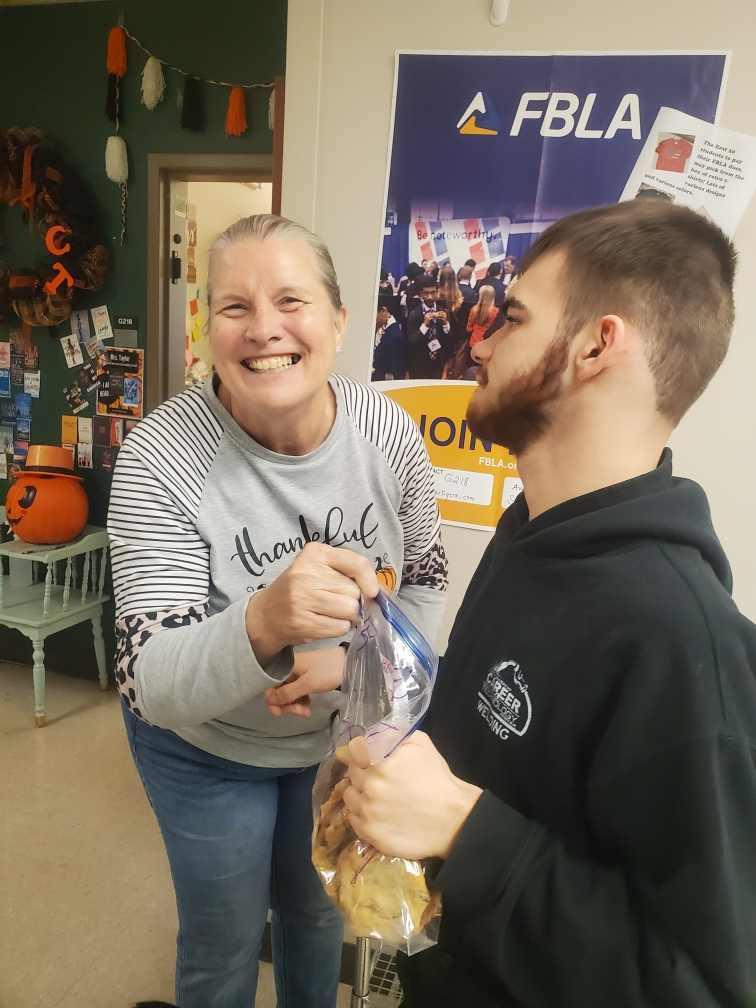 BINGO! Beta members enjoyed another event at the Missouri Veterans Home Monday Night! #betaservice
Reminder: Cape Girardeau Public Schools will be closed November 22nd, 23rd, and 24th for Thanksgiving Break. Students will return on Monday, November 27th.
Dr. Benyon, superintendent of Cape school, took time out of his busy schedule to speak to FBLA members about leadership.
On Sunday members of the Cape Central Beta Club members had the pleasure of having ice cream at the Veterans Home. They had the extra opportunity to celebrate Mr. Donald Lax's 93rd birthday! Everyone had such a great time and look forward to more events in the future!
Ms. Mirly's foreign exchange student presented to her 7th hour about his home country, Azerbaijan. The class asked many questions and he did a phenomenal job! He also handed out Azerbaijan flags, magnets, and key chains with their currency on it.
Cape Central Football will play Eureka on Saturday at 1:00 in Eureka. If you cannot go, there will be radio broadcasts.
FCCLA encourages everyone to sign up for the Buckle Up Phone Down Challenge organized by the state of Missouri. Cape Central is currently in first place but Truman is close behind. We want to win this thing for the safety of our community, bragging rights and some cash prizes. Click
https://www.savemolives.com/mcrs/AAAShowdown
The challenge is simple: when you get into any vehicle, buckle up your safety belt. If you are a driver, put the cell phone down. Turn it off if you have to. Every trip, every time!
FCCLA (Family, Career and Community Leaders of America) baked cookies for the high school staff on Thursday afternoon. The cookies were definitely enjoyed and appreciated by the staff!
Ms. Allen's Creative Writing class had a Horror Story Writing Contest. Aaliyah Solis won a crown and a gift card for her story, "The Runaway."
Student Senate is pleased to announce that Ms. Nancy Scheller was selected 23-24 Administrator of the Year at the SE District Convention! We are super pumped about this recognition!! She will be acknowledged at the MASC state convention in March 2024. Our Student Senate was Vice-President School for the SE district this year, so they were in charge of leading the pep assembly at the district meeting yesterday which was 30 minutes long!! Ms. Dubose and Ms. Kirchner are super proud of these kiddos!! Cyrus and Jacob worked the crowd to select participants for the games while Annie McDougal and Lydia Cao (emcees), Madison Phelps, Annalise Reinier, Sienna Hahn, and Brume Osiohwo worked the stage behind-the-scenes. It was an awesome event!! On another note, please check out this video - MASC Motto Video. The male voice belongs to our very own, Cyrus Boxdorfer!! Just love that!! One of the attached pictures is of Cyrus on stage with the guest speaker at the district meeting.
https://www.youtube.com/watch?v=DUab2nLujxk&ab_channel=mascstuco
Also, we had 4 students who led Ted Talk presentations about Teacher Appreciation (Annalise & Sienna) and Chain Links of Kindness (Annie & Lydia)! Rumor is that they did a great job!!
Join us for the District Semifinals football game and tailgate on Friday Nov. 3rd! No passes can be used for this playoff game.
Scheduling change! Tonight's district football game vs. Mehlville has been moved up to 5PM.
Shelby Bentley from the Red Cross spoke to at the FBLA meeting about the importance of donating blood. FBLA is hosting a blood drive on Wednesday November 1st. A large number of members turned out for the meeting. #redcross
Mrs. Khot's Entrepreneurship classes enjoyed a presentation from Nishant Bharadwaj. He is a Semo alumni , with two masters degrees, runs an e- commerce business -Print on Demand and his website is Cherish net . Mr. Bharadwaj spoke about how students can turn their passions into a business. He also acquired skills that people would pay for- Trade schools. Be your own boss and earn a good amount of money... The kids had a lot of good questions for him.
The October Board meeting was held Monday at the Central Administrative Office (CAO) located at 301 N. Clark. We were honored to have the opportunity to recognize our Terrific Tigers from each school. These students are exemplifying excellence and good character on a regular basis. Congratulations, Tigers! Keep shining! The Cape Central Academy Jobs for America's Graduates (JAG) program was also featured during the meeting with Central Academy Zech Payne and JAG Coordinator Ursulla Wadley making comments. CA student Taylor Banks read her award-winning essay as she shared obstacles she has had to overcome throughout her life, and goals she hopes to achieve through the support of JAG. Her determination is inspiring! Taylor, we are so proud of you and can't wait to see what's ahead in your future! View the October meeting agenda:
https://simbli.eboardsolutions.com/SB_Meetings/ViewMeeting.aspx?S=69&MID=14155
View the October meeting via YouTube:
https://youtu.be/2gqNj0h5SUk?si=j09Qsji7sQT6Kvmn